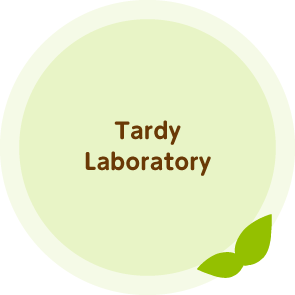 【Species name】Ramazzottius

---

---

She is the daughter of Tardy.
Her appearance and personality are the same as Tardy. Hakase brought her to his laboratory from mosses on a bridge over the Toyohira.

---
【Species name】Milnesium tardigradum

---

---

OniTardy was found in the same mosses as Tardy Jr.. She is a fierce predator who catches and eats Wamushi. She walks very fast. She can live only in clean environments and so she becomes weak if her house (culture dish) is not often exchanged to a new one.

---
【Species name】Echiniscus japonicus

---

---

She moves extremely slowly. What she eats is still unknown. She is an unpolished girl although she is city-bred.

---
【Species name】Macrobiotus hufelandi

---

---

ShiroTardy was also found from the same mosses as Tardy Jr.. She is carnivorous and eats Senchu. She is very knowledgeable. However she has a strong need for approval by others. Having a bit strong desire to be appreciated by others.

---
【Species name】Isohypsibius mypros

---

---

She was captured at a sewage plant in Tokyo. She eats and decomposes sewage. Her tolerance capacity is very low. She is too kind and sometimes blames herself when she thinks she made a mistake.

---
【Species name】Bdelloid rotifers

---

---

Wamushi was found from the same place as Tardy Jr.. They are food for OniTardy.

---
【Species name】Nematodes

---

---

Senchu lives in the same mosses as Tardy Jr.. They move slitheringly.

---
Hakase is a Dr. of water bears. His hobby is to collect water bears from various places and to observe them. Recently he suffers from eyestrain and migraines because of extended observation by a microscope. His dream is to be able to have a conversation with water bears one day.
Yu-San is Hakase's assistant. She takes care of the water bears for Hakase because he suffers from eyestrain and migraines. She is a little clumsy. However, she has a great affection for water bears much like Hakase does. Her favorite food is boiled eggs.

Daiki is a biologist who has been studying tardigrades since 2001. He created the design and character setting of Tardy. After he got his Ph.D, he worked at NASA Ames Research Center in USA and is currently working at Paris University 5 in France.
She is a free-lance illustrator and character designer. Camo created all illustrations on this website. She draws a variety of characters from comical to simple ones.